Nishjin Pachinko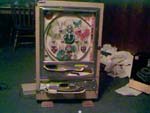 Cost: $75.00 for Two
Obtained from: Individual in Byron, GA on about Nov. 15, 1999
Condition: Dirty, light bulbs (10v) not working, some wires broken and only 21 balls provided.
Current Status: Restored to my satisfaction. Need to mount or place them somewhere permanent.

Game Details
Pachinko is a very old mechanical game where ball bearings are ejected from a lever and fall through a series of pins. The pins are mounted vertically, allowing gravity to help the ball on its downward path. The object (besides entertainment) is to land the ball into various "flower" type holes and other special holes that reward the player with bells, lights and additional balls.
Initial Inspection
As mentioned above, the machines were very dirty, light bulbs were burned out, some wires were broken and there were not enough balls. I'm not sure how many balls are required, but I ordered 400 to cover these 2 machines plus an additional machine that I won from e-bay.
Providing The Power
Pachinko is not a power hungry game. My two machines required 10 volts, which seems a bit strange considering the voltage increments of various US power sources. The voltage is only required to power the lights scattered around the playfield. Because I'm unable to obtain 10v lamps to replace those that have burned out, I may end up using 4.8v flashlight bulbs and stepping the voltage down. Either way, a plug in the wall transformer can be used to power each machine.
Cleaning Up The Machines
So far I've spent about 2 hours cleaning up one of the machines. I used "Mothers Chrome Polish" to remove minor pitting and shine up the chrome. (found in the automotive cleaners section) It worked very well but the chrome still has some larger pits. I may try using a dremel tool with some polishing attachments to clean it up even further. The playfield was cleaned with some "409" cleaner and q-tips. So far the machine I cleaned looks stunning.
I finally cleaned the second machine using both hand rubbing and a dremel tool. The dremel was actually removing what looked like pitting in the chrome. The only problem is that the felt roller wore down too quickly and a little mistake in holding the tool caused a bad scrape of the machine. I put the dremel away and finished up with a good hand rubbing. The second machine ended up looking nicer than the first one! I might go back and re-shine to other machine now!
Fixing What's Broken
Because there were some broken wires, blown bulbs and some decaying grommets that held the lamp sockets, I needed to find some replacement parts. Thankfully my local Lowe's had just what I needed. I purchased new lamp sockets, rubber grommets to hold the sockets and new light bulbs. After a little soldering I was all set. The cost for replacement parts was about $10 but well worth it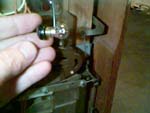 Photo of bulb, socket and rubber grommet.
After playing one of the machines for a little while, I noticed that they would get doubled up in a tray that fed the bonus balls area of the game. I compared both machines and noticed that a cover was missing that held the balls down in the feed tray, preventing them from doubling up on top of each other. I used a piece of sheet metal and some hand held cutters to make my own cover to hold the balls down. The cover turned out really nice and fits tightly. Most importantly it works! The cover took about 5 minutes to make.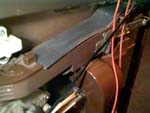 Photo of new sheet metal ball feed tray cover.
The Balls Have Arrived!
I finally received my order of 400 balls from Pachinko King. The balls cost .10 each and shipping/handling came to $7.10 for 400 balls. The balls were all very clean and shiny and arrived within about 3 days of ordering. The machines actually work not that I have 200 balls in each of them. Trying to test the machine with 21 balls was futile. You must have enough balls to weight down the various controls and levers in order to get the game to work right.
Now What?
Besides playing the machines, I need to figure out what to do with them! Both of them are sitting in my living room on the floor right now. I'm considering the possibility of mounting them (recessed) into a wall in a spare room that I have. That room might become my game room but for now it's a spare bedroom. I'm not positive, but I believe that pachinko machines were intended to be mounted this way and that they were refilled and reset by and attendant opening the key lock on the front and swinging the door open. If you know or have advice for me on how I should mount the machines then please let me know!
Cost Summary
I now have 2 pachinko machines. This is a summary of what they cost me.
| | |
| --- | --- |
| Initial Purchase | $75.00 for 2 |
| Balls | $47.10 for 400 |
| Cleaners/Polish | $5.00 |
| Lamps/Sockets/Grommets | $10.00 |
| Total Damage | $137.10 for 2 classic Pachinko machines! |